MBS CERTIFICATES: 349
SUCCESS AMBASSADORS: 18
(as of May 2020)
Cotonou
Briac Afangnon
briac@interweavesolutions.org
+229 63 60 77 90
Charles Nouatin
charlesnouatin2014@gmail.com
+229 97 40 16 62
Christel G.U. Sossou
sossouchristelgbeyeton@gmail.com
+229 96 42 15 01
Excellent Fassinou
fassinouexcellent@gmail.com
+229 97 51 43 49
Florimonde Tossa
tossaflorimonde@gmail.com
+229 97 29 91 40
Gbèdiga Lokossou
gbedigalokossou@gmail.com
+229 96 72 40 36
Isidore Odountan
odountanisidore730@gmail.com
+229 67 60 76 22
Jean Ahowekoun
jeanhoussou56@gmail.com
+229 96348751
Charbel Ahomagnon
charbel@interweavesolutions.org
+229 62 49 02 50
Cotonou
Judicaël Akpossou
judicaelakpossou@gmail.com
+229 62 58 37 81

Kazotti Ifonti
imaxbenin@gmail.com
+229 95 90 18 95

Kety Vodounou
germonne@gmail.com
+229 95 45 98 85

Laurette Ahehehinnou
lovegael07@gmail.com
+229 66 99 74 17

Leándre Adimou
lenaredpen@gmail.com
+229 97 73 27 97

O. Victory Ahehehinnou
oliviervictory92@gmail.com
+229 62 03 38 03

Urbain Lokossou
lukisba02@gmail.com
+229 67 62 74 79

Eliezer Menoukoume
eliezairemenounkounme@gmail.com
+229 60 28 92 64
Ralmeg Helvis Zodji
ralmeghelviszodji@gmail.com
+229 98 23 26 47
Impact of the MBS Course in Benin
Participants are asked to complete a self-assessment before and after taking the MBS course. The following report demonstrates the impact of the MBS course based on the results of the evaluations in Benin.
Agree/Disagree | Before/After
I have my own business. | 35% / 92%
I have a plan to improve my personal life. | 42% / 92%
I serve in my community. | 14% / 85%
I save money regularly. | 14% / 100%
My family spends less than we earn. | 42% / 100% 
My family can afford the basic necessities of life. | 35% / 100%
I keep business records. | 35% / 100%
My business has improved because of the MBS course. | 92% 
My income has increased because of the MBS course. | 92%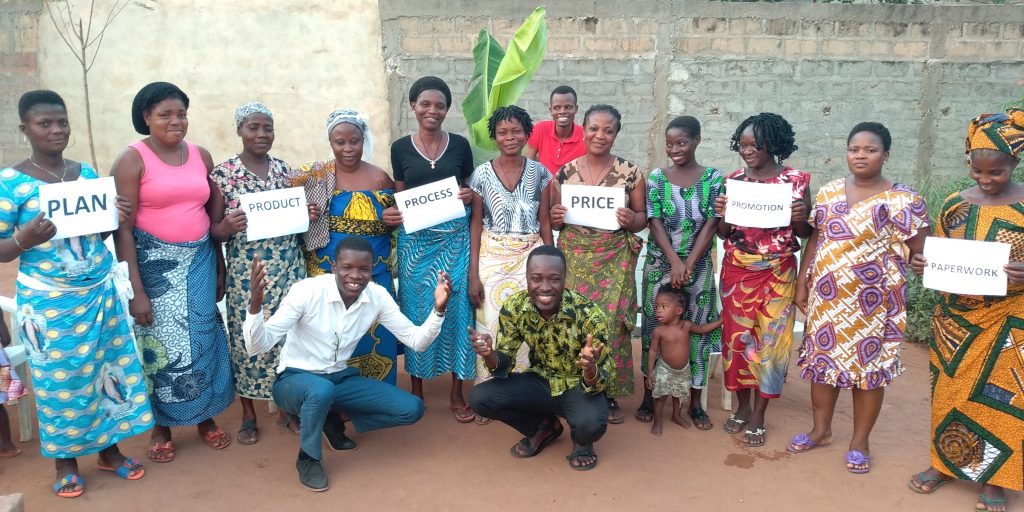 Benin. Jean Ahowekoun and Charles Nouatin are our two newest Success Ambassadors in Benin! They were both certified as Success Ambassadors within the last few months and are already seeing progress in the groups they have started. They are working especially with a group of women, some of which don't even have basic reading skills, but they report that the women are eager to learn and improve their lives!
More
Benin. In July of 2017, Mr. Kazotti Ifonti of Benin, Africa traveled to Ghana where he met our current Success Ambassador, Saida Zouzou. Mr. Kazotti learned about the Interweave Solutions MBS program and was immediately interested in bringing the program back to his home country. Back in Benin, he began the MBS program online. He began to invite other people from his personal network. Briac Afangnon and Isidore Odountan also began the MBS course online. The men all graduated successfully from the MBS program and went on to each receive their Success Ambassador Certificate.
More