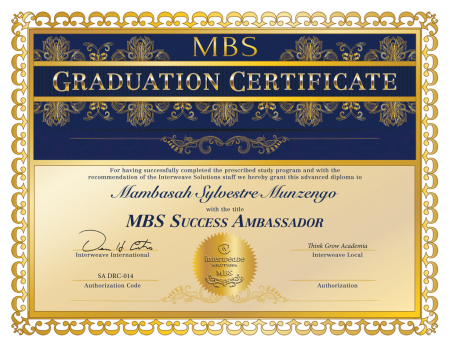 A Success Ambassador creates their own self-reliance training business to help others become more self-reliant. Once a Success Ambassador has learned and applied Interweave Solutions Master of Business in the Street (MBS) self-reliance principles to their own life and has received their MBS and Success Ambassador certificate, they can teach the course to others.

Success Ambassadors can form MBS self-reliance groups with governments, churches, NGOs, Micro-Finance Institutions, neighbors, etc. to help individuals grow their businesses and improve their homes and communities. They are authorized to issue an Interweave Solutions International MBS certificate to their participants when they meet Interweave Solutions standards.

Success Ambassadors charge a competitive price to each participant and keep their earnings after paying Interweave for the printed manuals and MBS certificates. Becoming a Success Ambassador is a great way to help others and earn money at the same time by developing a profitable MBS training business.
There are many benefits of becoming a Success Ambassador.
Authorized to:
Print, use and sell Interweave Solutions material

Teach the MBS course

Have your name on the Interweave Solutions website

Receive a letter of authorization to teach the MBS
Support/Networking
Access to Interweave Solutions MBS marketing materials

Coaching from your Language Director

Attend regular zoom trainings and annual conference

Join a Success Ambassador WhatsApp group
Financial Help
Eligible to receive Start Up and Scholarship Grants

Eligible for personalized social media marketing campaigns

Eligible for incentive grants to recruit other Success Ambassadors