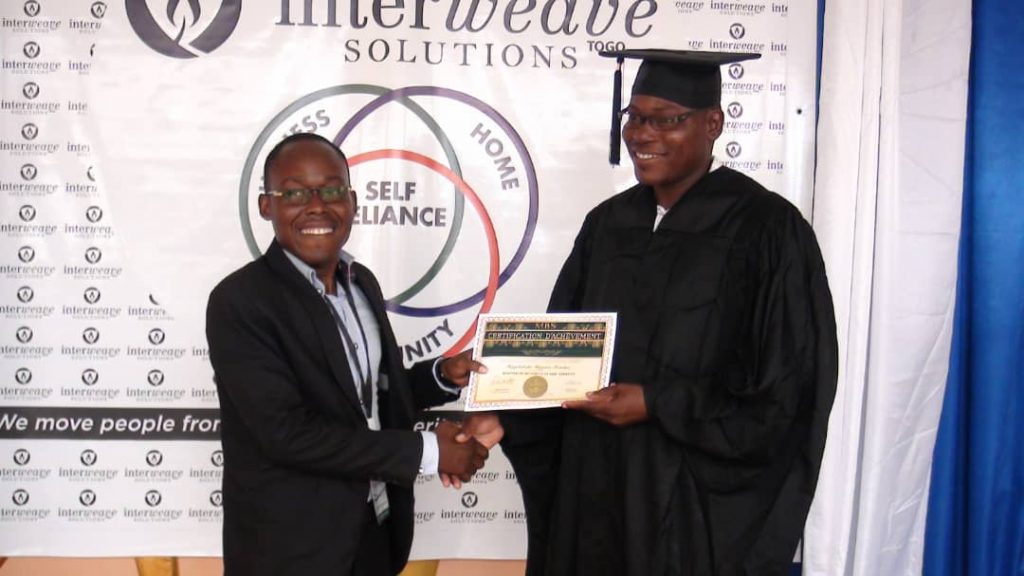 Lome, Togo. After receiving his Success Ambassador certification only a few months ago, Azedzi Ganyo worked hard to gather his friends and colleagues, tell them how the MBS program had impacted his life, and invite them to have a similar experience by joining his new MBS group. Some people came, and some even brought their friends, until Azedzi found himself with a group of 15 dedicated learners, who have since completed the MBS program and improved their quality of life.
Azedzi said the program had a good impact in the life of each participant, but most notably he shared a few specific experiences that were highlighted in the graduation ceremony last week. 
One of his participants had been working as the manager of a relative's business, but found it difficult to have the time and resources to take care of his own family. As he learned about the Quality of Life wheel, he realized that all aspects of his life were interrelated and that he had the power to control all of them. So he shared the things he was learning with his wife and they started building a new plan. They opened a business selling eggs and have concrete plans to turn it into a bigger poultry farm, which will allow the time and income to be successful in business, home and community.
Another man said that he had taken entrepreneurship courses before, but had never heard anything so simple and practical as the 6Ps of business that the MBS course taught.  He also shared his findings with his wife and together, they started keeping records and have plans to start up a new business.
Watching and helping so many people improve their businesses, their families and their communities is inspiring. Azedzi said, "As a Success Ambassador, I get a great feeling; I do not know how to express it. My emotion was so high when they bear these testimonies. I have been able to change those persons lives through the MBS program; we were with them always, made follow-up, and helped them in their challenges. I think I will do more with others." 
He and his partners are pleased with the success they have seen, but they are not satisfied. They continue working to help these people maintain the self-reliance they have found. "At the end, I see that they became all very responsible. They wanted to do something better. For that reason, we are about to sign some partnership with some Microfinance Institution so that it can sponsor them for the realization of their projects." 
At Interweave, our mission is to strengthen the businesses, homes and communities of those who take our courses, improving the overall quality of life, and we seek to make positive changes permanent. This group in Togo exemplifies these values and we are so excited to continue watching them grow.